Pent up seller demand is probably not something that you may think about when entering the real estate market. It is a motivating factor that can move the market, effecting housing inventory and price. But what is pent up seller demand? How do we measure such a thing? Well we know who has the answers.
As it turns out the National Association of Realtors has this information and even measures it for us. First what is seller demand? Seller demand and the time a home owner spends in their homes are directly connected. Basically, homeowners have been staying in their current home longer than historically recorded. Most homeowners have historically stayed in their homes for a total of six years, but this tenure has grown to almost ten years. This is pent up seller demand.
Why did this change?
Well there are a lot of reasons for this change. One of them being that the fall of housing prices during the crisis left many home owners in a negative equity situation or commonly known as upside down on their home. The home owners actually owed more on their homes than they were worth. The second reason is that many home owners are simply in a better financial situation now with the heightened economic environment.
The effects of the change?
With home prices rising dramatically over the last several years, 95.3% of homes with a mortgage are now in a positive equity situation, according to CoreLogic. When home owners have positive equity it allows them more options. In turn, plenty of homeowners decide to move onto a bigger home or a different location. When a seller decides to relocate this opens up an opportunity for a buyer as well. On a larger scale this creates market movement and fluid housing inventories.
Many real estate professionals believe that more home owners are not currently in homes that fit their current needs. Whether they are retirees looking to downsize or a growing family looking for a great school district, the need is real. This will cause more movement of housing inventories and location demand.
As the graph below shows, over the last twenty years (1985-2008), the median tenure averaged exactly six years. However, since 2014, that average is almost ten years – an increase of almost 50%. This graph was provided by Keeping Current Matters, who we feel do a great job in presentation.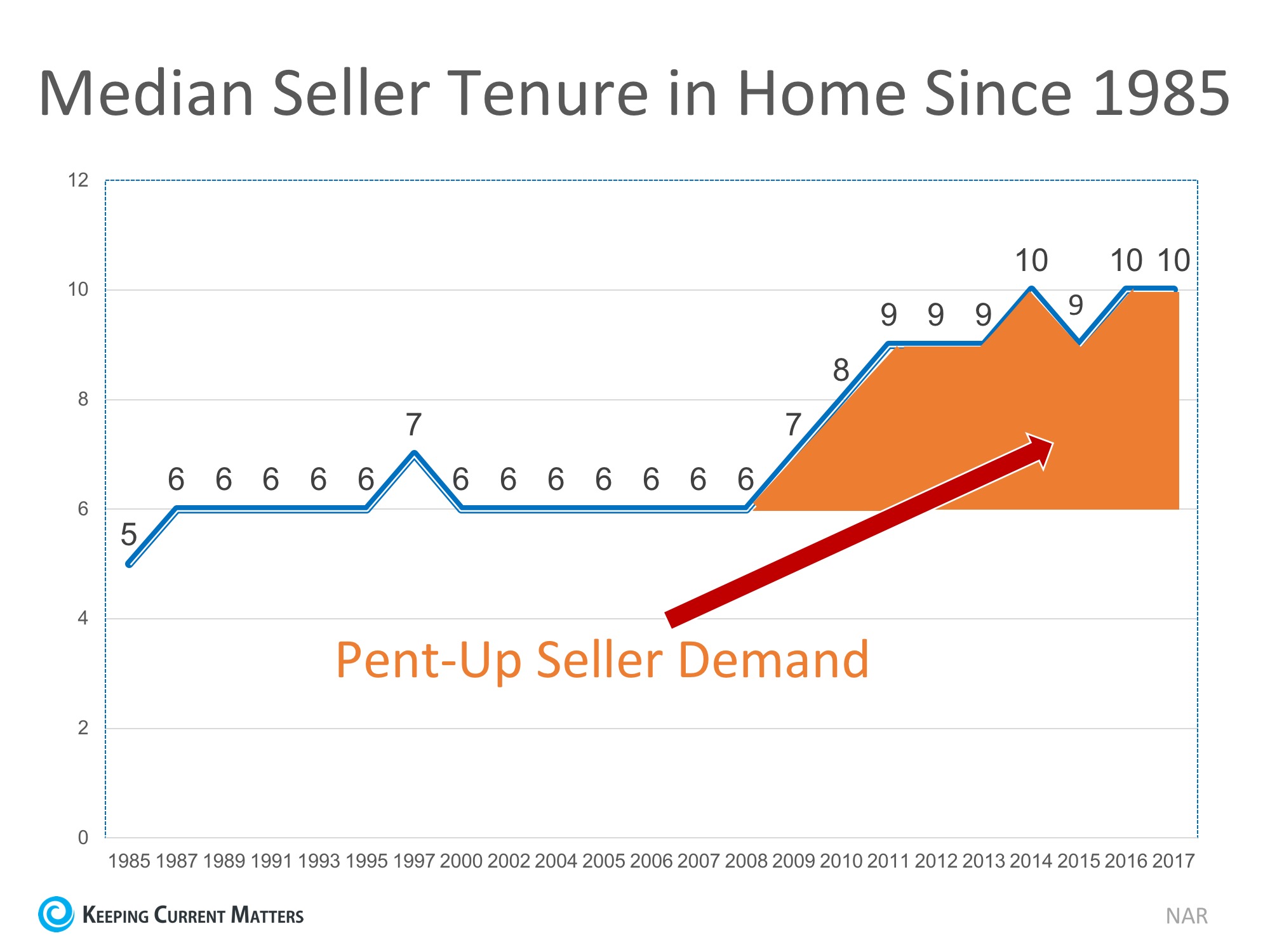 This graph shows the change in home tenure for sellers since 1985, wellbefore the housing crisis. We have a lot of sellers looking to make the moveand a lot of pre-approved buyers willing to make the move as well. We currentlyare in a restriction of housing inventories, but all indicators point to achange coming. Soon we may see a more even housing inventory, creating aneutral market.
All real estate is local. York County South Carolina has a lot to offer.Whether you want to visit the lakes, or be entertained you will not belet down. York County also has medical centers and higher education centersavailable. If you are thinking of making a move, give us a call. We have thedeep community roots and network to help you find your next home. We can showyou all of the beautiful areas of York County.
We would like to invite you to visit ArbieTurnerHomes.com, specializing inthe Rock Hill, Fort Mill, Indian Land and Tega Cay areas of South Carolina. Ourteam has made available tours of subdivisions in each city for your review. Weare deeply knowledgeable of these areas, which is why you want to choose us foryour real estate needs.
Courtesy of Arbie Turner Homes Keller Williams Fort Mill SC
We work hard for our customers.
Hire a positive and proactive team of Realtors to help find your next home!
For more information please visit: http://ArbieTurnerHomes.com
Call or text 803-207-7051
Looking for a new home: http://arbieturner.newnha.com
Like us on Facebook! https://facebook.com/ArbieTurnerHomes
View our channel https://www.youtube.com/channel/UCrHhsqvC-3mZ_CC