Demand and equity are two different concepts that work together in the real estate market. Each concept pushes and pulls on the other effecting home values and sales. We also have a rich amount of seasoned and first time home buyers who are qualified and looking for their home. So many people looking for their next home, and not that many homes available. This situation raises demand which affects appreciation creating accelerated equity.
Demand
According to the National Association of Realtors (NAR), the inventory of homes for sale "has fallen year-over-year for 36 consecutive months," and now stands at a 4.1-month supply. A 6-month supply of inventory is necessary for a balanced market and has not been seen since August of 2012. Simply put, there are more people looking for homes than homes available for sale. This creates a seller's market. This situation also creates bidding wars over available homes. In a bidding war, your strongest tool is to be pre-approved by a lender for your home loan. This lets the seller know that a bank has already received your documentation and want to lend the money. A pre-approval is a strong advantage and can give you the edge over other bidders.
NAR's (National Association of Realtors) Chief Economist Lawrence Yun had this to say,
"Inventory coming onto the market during this year's spring buying season – as evidenced again by last month's weak reading – was not even close to being enough to satisfy demand.
That is why home prices keep outpacing incomes and listings are going under contract in less than a month – and much faster – in many parts of the country."
Equity
One important factor to equity is appreciation. Appreciation is on the rise and differs by location. The definition of appreciation according to the Cambridge University is "an increase in the value of something". The definition of equity also according to Cambridge University is "the money value of a property or business after debts have been subtracted." They are somewhat similar, but equity takes debt into consideration.
As more and more renters realize the benefits of home ownership and enter the real estate market, the demand for available homes will continue to rise. A higher demand on any asset raises the value of that asset. I am sure we all have seen this happen in our own life. When something is more desired and rare it usually is more expensive.
Here is a fact that will enlighten and possibly surprise you. With home prices rising across the country, homeowners gained over a trillion dollars in equity over the last 12 months, with the average homeowner gaining over $16,000!
Below is an illustration provided by Keeping Current Matters. This graph breaks down the amount of equity achieved by state. South Carolina is currently enjoying growing equity at a rate of 8,000 to 14,000 a year.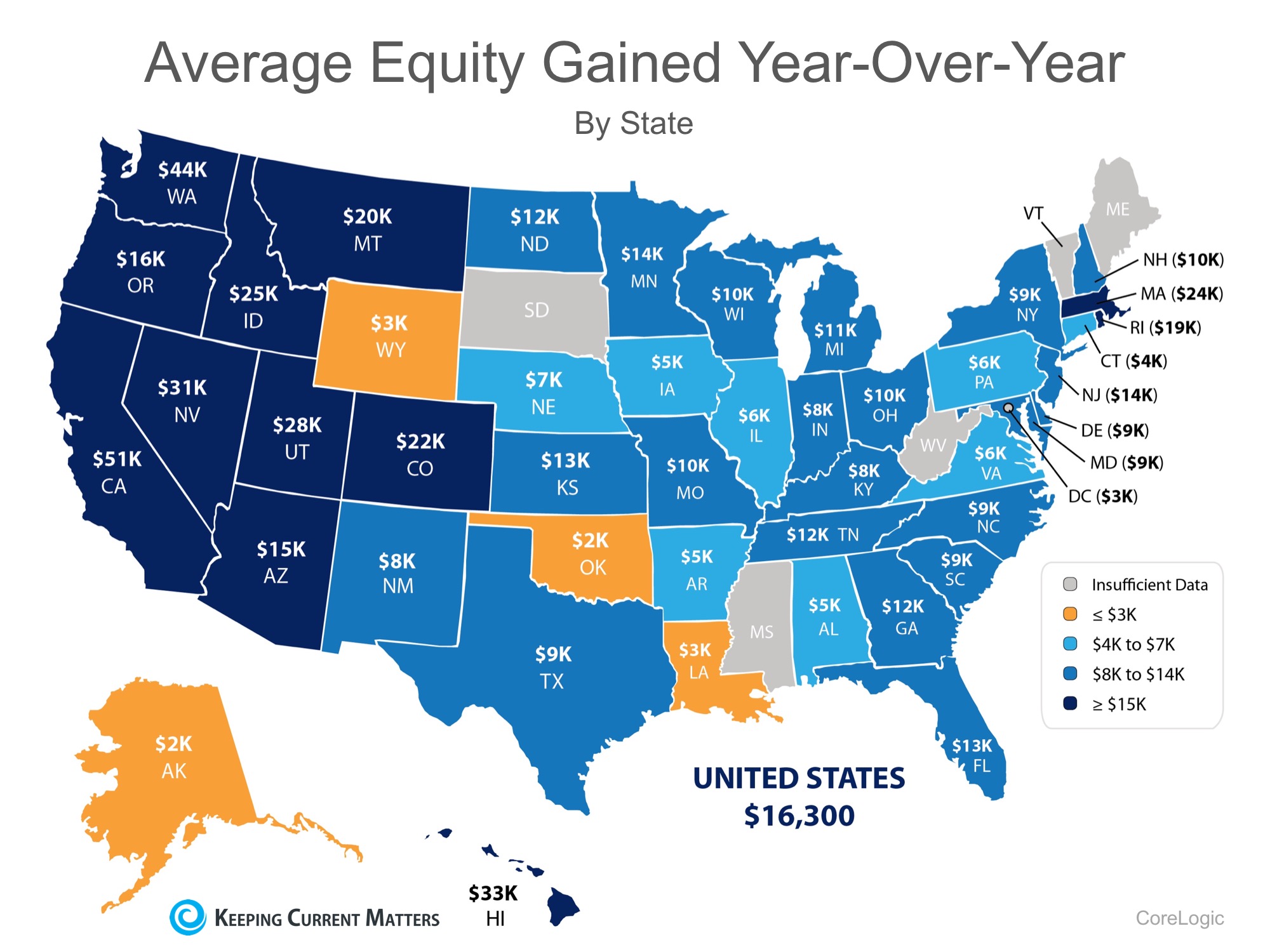 Many homeowners do not realize how much equity they have acquired. We have seen a steady demand for homes for an extended amount of time. If you are a homeowner and have been thinking of listing your home for sale, now is the time. Demand is high, you may have more equity than you think. Let us help sell your home, they are going fast.
All real estate is local. York County South Carolina has a lot to offer. Whether you want to visit the lakes, or be entertained you will not be let down. York County also has medical centers and higher education centers available. If you are thinking of making a move, give us a call. We have the deep community roots and network to help you find your next home. We can show you all of the beautiful areas of York County.
We would like to invite you to visit ArbieTurnerHomes.com, specializing in the Rock Hill, Fort Mill, Indian Land and Tega Cay areas of South Carolina. Our team has made available tours of subdivisions in each city for your review. We are deeply knowledgeable of these areas, which is why you want to choose us for your real estate needs.
Courtesy of Arbie Turner Homes Keller Williams Fort Mill SC
We work hard for our customers.
Hire a positive and proactive team of Realtors to help find your next home!
For more information please visit: http://ArbieTurnerHomes.com
Call or text 803-207-7051
Looking for a new home: http://arbieturner.newnha.com
Like us on Facebook! https://facebook.com/ArbieTurnerHomes
View our channel https://www.youtube.com/channel/UCrHhsqvC-3mZ_CC